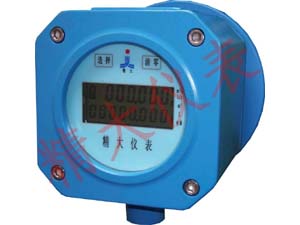 ■Product Introduction
ELZ LCD digital display counter and LC series of oval gear flowmeter supporting the formation of advanced digital display type volumetric flow meter. The counter uses a new single-chip and advanced integrated circuits, simple structure, easy to operate. In addition to the flow meter can be read directly on the cumulative total amount of traffic, single shift, instantaneous volume, the output frequency signal can be linearly converted into 4-20mA DC signal sent to the automatic adjustment system, as the regulator input signal Or to the instruction log meter to display the instantaneous value. The product uses low-power microprocessors, low power consumption, built-in lithium battery can run continuously for more than three years.

■Product features
One. High reliability: the counter and the flow meter body constitutes a mechanical and electrical integration structure, no leakage parts, solid structure, anti-jamming performance.
Two. High precision: the use of F-V integrated conversion circuit, high conversion accuracy, good linearity.
Three. Indication of intuitive: can be digital cumulative volume, single shift, instantaneous volume, convenient and no visual error.
Four. Low power consumption: the use of low-power CPU and liquid crystal display, the battery can work for more than three years.
Five. Easy to operate: only a magnetic switch to complete a single shift back to zero, and cycle to see the cumulative amount of single-shift, instantaneous volume.

■Main Specifications
One. Digital counter working environment temperature: -10 ℃ ~ +55 ℃
Two. Machine power consumption: running <450μA, still <50μA at rest
Three. Waterproof rating: IP54
Four. Display the range
Single shift (resetable, highest digit display symbol "P")
P00000.00-P9999999 liter (cubic meters)
Instantaneous quantity (highest bit display symbol "F")
F00000.00-F9999999 l / min
Total (can not be reset, full scale automatic reset)
000000.00-9999999 l (cubic meters)
Five. Output signal
ELZ type only on-site display
ELZ-Ⅰsynchronous voltage pulse signal output: operating voltage VCC +12 V, VL <0.5V, VH> 11V wiring shown in Figure 1
ELZ-Ⅱstandard current analog 4-20mA output: operating voltage VCC +24 V, the maximum operating current of 0.2A, the maximum load resistance of 500Ω (constant current), wiring shown in Figure 2; or standard voltage analog signal Vo1 ~ 5V output, wiring See Figure 3)
Six. Remote distance 1Km, the output line selection RVVP4x28 / 0.15 four-core shielded cable, the resistance value of not more than 39Ω.