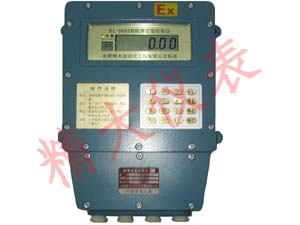 ■Product Introduction
EL-5092B (EL5092BK) series of explosion-proof value control instrument (also known as: loading control device, batch filling controller), widely used in petroleum, chemical products, automatic quantitative loading, barrels, bulk filling control, A variety of medium high-precision mixing ratio distribution, control, and the production process of the middle metering function, is the basic unit of the automated distribution system. The product is in the study of foreign similar products on the basis of advanced technology, in-depth understanding of the actual needs of domestic users, tailored for the Chinese users can completely replace the same type of products at home and abroad.

■Instrument features and functions
EL-5092B series of explosion-proof value of the controller with its advanced technology, beautiful appearance, full-featured, easy to operate, the use of reliable and favored by customers. It uses the industrial CPU microprocessor as the core, with LCD LCD digital and Chinese characters display type to choose from. Circuit design and software design using the watchdog (WDT) processing technology, the power line with a power filter to improve the system's anti-electromagnetic interference, can be widely used for flow measurement display, quantitative loading, barrel And ingredients control and other places of use, with the cumulative flow display, instantaneous flow display, hair data query, multi-stage sequential control, pump control and other functions. Can be used alone to install, but also through the RS-485 communication interface and the computer constitutes an automatic measurement, control management system, to achieve hair oil distribution monitoring, data statistics, printing and network management.

EL-5092BK explosion-proof value of the controller is a series of products in the forward-looking products, which uses high-speed ultra-large-scale enhanced industrial-grade SOC core, non-contact IC card technology and the latest electronic technology, with high precision, Fast, anti-interference ability, communication distance and high-speed and reliable, easy to operate, easy to maintain and so on. Operation of the chassis with flameproof design, internal non-contact IC card reader, can be different non-contact IC card administrator, operator two permissions, the second level password management, display part of the 320x240 dot matrix Screen backlit graphics LCD screen, up to 15 lines of Chinese characters display, display a large amount of information to facilitate customer operation, user-friendly. In order to improve the transparency of the EL-5092B series explosion-proof controller, all the parameters in the machine are open to the user, that is, the operator can know any parameters within the machine through the keyboard. EL-5092B explosion-proof value control instrument with a single quantitative control function. EL-9052BK with a single quantitative, dual-way quantitative and other control methods. Compared with the domestic similar products, the series of products not only technology leadership, at the same time with the prospective superior performance, intuitive operation interface, petrochemical industry storage and transportation sector is the preferred product.


■Selection table




■Instrument functions and features
EL-5092B explosion-proof value control device
One. With remote networking and local stand-alone two ways of working.
Two. Chassis with explosion-proof design, can be installed separately, can also be installed in a dedicated operating cabinet.
Three. There are two kinds of shipping and bottling.
Four. Can be shipped directly by mass or volume, and upload to the host computer at the same time.
Five. With artificial temperature and automatic heating and other two ways, with automatic temperature compensation.
Six. With power-down protection and memory power-down before the working state function, after the call to continue the original work, field work with the oil start button and emergency stop button.
Seven. Can be connected with plug-in highlight character display, synchronized with the controller display.
Eight. With RS-485/232 communication interface, and the host computer composed of monitoring the oil management system.
Nine. In the communication line, joined the three lightning protection, anti-static circuit, with strong anti-lightning and anti-static ability.
Ten. Important parameters Operation privilege setting function (metering engineer operation password)
Eleven. With flow and valve lights, easy to determine the fault.

EL-9052BK type, in addition to EL-5092B function, but also has the following functions
One. Non-contact IC card design, the user can be based on requirements, to achieve IC card rating authority control, identity management.
Two. Backlit monochrome Chinese character LCD display (320x240 dot matrix, 20 words x15 lines of Chinese characters), with a beautiful display, not affected by the surrounding environment, clear and beautiful.
Three. Can be customized color LCD module (320x240 dot matrix, 20 words x15 lines of Chinese characters).
Four. Use temperature -30 ℃ ~ 80 ℃, need to customize.
Five. With two simultaneous control of filling and feeding function.
Six. Can accept static grounding switch signal (not connected to the electrostatic clip can not oil)
Seven. Can accept the oil level switch signal (oil spill automatically shut down the valve)
Eight. With remote computer control, local stand-alone control, ticket control, IC card control and other delivery methods.
Nine. Machine storage of 100 / Crane of the offline records.

■The main technical parameters
Serial number

parameter

EL-5092B

EL-5092BK-Ⅰ/Ⅱ

One

Flow meter signal input

Voltage pulse Vp-p ≥ 3V, current pulse Lp-p ≥ 3mA, frequency 0-2000Hz, the machine provides DC12V or DC24V flow transmitter power supply.

Two

Temperature signal input

Two-wire or three-wire 4-20mA current-type temperature transmitter (or density meter) to provide DC12V or DC24V temperature transmitter power supply

Three

Anti-static grounding switch input

Ground contact for passive contact input

Four

Anti-spill level switch input

Passive contact input (if the current or voltage type, when ordering special instructions)

Five

Number of traffic channels

One way

one~two way

Six

Number of temperature channels

one way

one~two way

Seven

Valve control output number

one way

one~two way

The valve controls the output load

24VDCX2A, two or more sections, the size of the valve control

Eight

Pump control output number

one way

one~two way

The pump controls the output load

24VDCX0.5A

Nine

display

8 segment LCD

320X240 backlit LCD Chinese graphic LCD display

Ten

keyboard

Flameproof metal keyboard (key and instrument cavity isolation)

Eleven

Data power-down protection time

Not less than 6 months

Not less than 6 months

Twelve

Calendar, clock

no

yes

Thirteen

Communication Interface

RS-485

forteen

Baud rate

RS-232/485;2400,4800,9600bps

Fifteen

Communication protection and communication distance

Communication interface to take three lightning protection, anti-static measures, with anti-lightning and anti-static ability, communication distance up to 0.5KM.

Sixteen

Protocol

Internal agreement

Seventeen

Oiling mode

Remote networking, site local delivery, convertible

Remote networking, site local, ticket delivery, IC card mode, convertible

Eighteen

Password operation

Parameter password protection

Operator, Administrator Level 2 Password Permissions

Nineteen

IC card operation

no

yes

Twenty

History query

no

yes

Twenty-one

sending data records

no

100 / Crane

Twenty-two

The system controls the measurement accuracy

Equivalent to the accuracy of the flowmeter

Twenty-three

power supply

220VAC±10% 50Hz

Twenty-four

Explosion protection rating

dⅡBT4

Twenty-five

Protection class

IP54

Twenty-six

Ambient temperature

-20℃~50℃

Twenty-seven

Electrical interface

G1寸x4

Twenty-eight

Dimensions(mm)

320(width)x460(hight)x130(Thick)

320(width)x460(height)x150(thick)

Twenty-nine

Install fixed size
(mm)

350x250

375x220

thirty

Installation method

Wall mounted, can be directly screwed to the column or wall, or installed with a dedicated operating cabinet.

Thirty-one

Special installation of the operating cabinet

600(width)x1600(height)x400(deep) Optional

Thirty-two

weight

20kg
■The typical flow of the system is shown in the following figure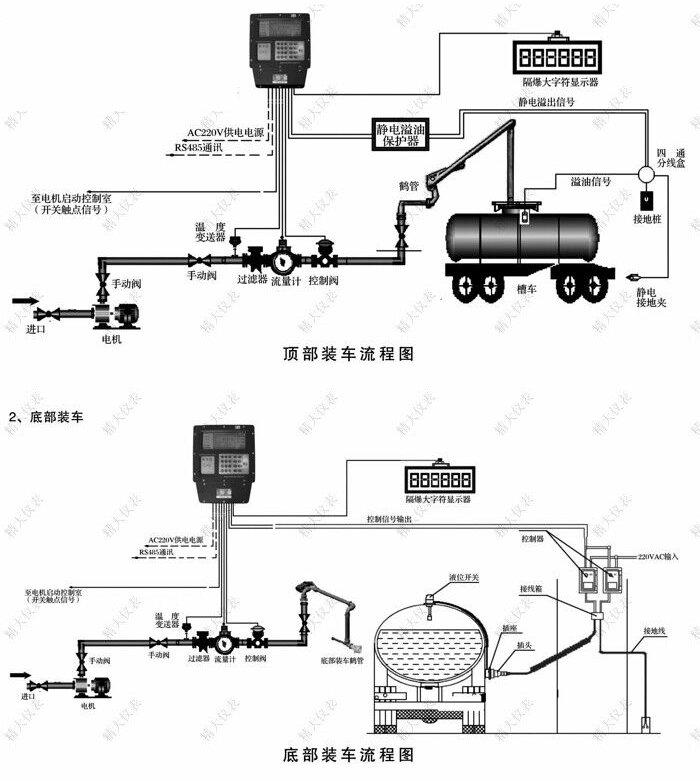 ■Wiring instructions
One. Power supply line (AC220V): Casing cable RVVx1.5
Two. Flowmeter, temperature transmitter to the controller: shielded cable RVVP3x0.75
Three. Control valve, operating column to the control device: Sheath cable RVV3x1.0
Four. Static ground switch, oil spill switch to the control device: shielded cable RVVP4x0.75
Five. Large screen display to the controller: shielded cable RVVP6x0.75
Six. Control device to control room PC: Communication shielded cable RVVSP4x1.0
■Ordering instructions
One. Please specify the model, name and number of instruments required, the name of the fluid under test, the caliber of the pipe and the working environment.
Two. Indicate the model of the flowmeter and the output of the transmitter (two-wire or three-wire, the transmitter power supply, etc.), the temperature transmitter, the control valve power supply and the cable and other parts of the model And specifications.
Three.The basic nature of the fluid within the pipeline and the use of temperature range, quantitative control instrument using the temperature environment.
Four. Do you need to control the pump, electro-hydraulic valve or other peripherals, with or without any other special requirements.